Halloween Decorations: How to Preserve a Halloween Pumpkin
10.24.2013
I think it's safe to say we've all been there. When your pumpkins start to rot it can be a little sad. Although it is an easy opportunity to teach your little ones about life & letting go of things. It can be sort of irritating for Mommy as well! It always makes me mad when I put all that hard work into the thing & it's getting all gross within a week! So I scoured the internet, determined that our pumpkins will not die until I allow them too! (Or at least until Halloween is over...)
One of my old favorites is painting them. Yes, my crazy boy gets his own gourd to decorate. But I secretly love painting my own. They last all the way through Thanksgiving for us sometimes.


Ouremptynest.net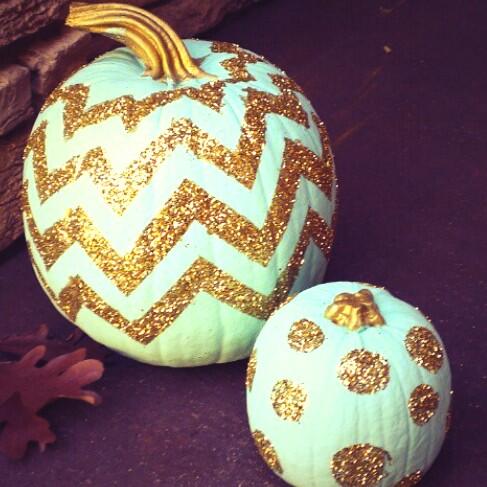 teiks.com

Here are 2 my favorite examples of painted pumpkins I found on the web! They are so original. I especially loved the chalkboard family. Partly because I have an unhealthy obsession with chalkboard paint & I love that the kiddos can draw new faces whenever they want!
themumsyblog.blogspot.com
We have had a super busy October at my house. I haven't had the time to carve any yet, but we have wrapped a few in old nylons. I love this idea. It gives them a spooky look & you don't have to dig into nasty pumpkin guts!!
I had the idea to cut out different face shapes from felt so my boy could make new faces on his pumpkin whenever he wanted. This is really nice if you have a creative kid like mine! Painting 1 pumpkin is never enough for him! He sure likes his options!
Check out this cute mummy pumpkin I found on ouremptynest.net! This site had at least 100 different ideas for pumkin & Halloween décor. I have to admit, I did get a little lost in all the cuteness. I might just buy 5 more pumpkins to utilize my new ideas!
Ouremptynest.net
(I found this post last year on polkadotbumblebee2.blogspot.com. We tried it & our pumpkins lasted for 3 whole weeks!!)
"Do you know the best way to clean & preserve the gourds & pumpkins that you use for indoor decorating?
It only takes a few minutes and really makes a difference in how they look and makes them last longer.
First, give 'em a bath! In a solution of bleach water. I use 1 part bleach to 10 parts water.
Let 'em hang out in there for a little while. If you put the stems down, they won't bob up."
Well, there you have it! I know how busy mumsies can get this time of year. I hope it helped you find an easier way to preserve your works of art a little longer!!
Until next time mumsies!!